She has appeared on the covers of Glamour and Elle magazines, and walked the runway for Donna Karan and Calvin Klein. From 1999 to 2000 she was one of the female co-hosts of MTV's Loveline television show. FHM magazine readers voted her one of the sexiest women in the world for 2001.
Today she is the mother of three adorable kids and the creator of the super popular blog, andjudge on Guy's Grocery Game. I sat down with Catherine at her home in Los Angeles to talk about modeling, personal style and her delicious business.
J: How were you discovered as a model?
CM: When I was 13 years old I had an injury from running and a friend signed me up for a modeling contest which I ended up winning. A few months later I got a card in the mail for a local modeling school. I walked in and they signed me up for a contest called Elite Models Look of the Year. I ended up being a national finalist and going to Japan for a month to compete as it was televised on ABC. It was quite a whirlwind adventure for a 14 year old.
J: What were some of the challenges for you while working as a model?
CM: Traveling around the world for years was incredibly exciting, but became very lonely after a while.
J: Many models are fighting the food habit. Was food ever a challenge for you while modeling?
CM: I lived with many models who had food issues so it was always around me, but learning about food through the countries I visited was extremely exciting to me.
J: What inspired you to start successful culinary business Weelicious?
CM: After I had my son, Kenya, I couldn't find interesting homemade baby food recipes online as well as information about how to make kids great eaters from day one. We had always bought our food at the Hollywood farmers market, so I started blogging a different recipe everyday and my feeding adventures. The recipes eventually expanded to toddler, big kid and then recipes for the entire family. 8 1/2 years later there are over
1200 recipes and 350 cooking videos on the site.
J: You area judge on a culinary TV show called Guy's Grocery games. Do you have a stylist or do you put together your own look?
CM: We have an amazing stylist, Joey. I bring the clothes and jewelry I want to wear and she jazzes it all up!
J: Does the fashion world still feel like a family to you?
CM: I have a few amazing friends in the fashion industry. Like all things, times moves on. I'm so lucky to have had a great experience, but this side of life is just as if not more thrilling, but in a different way.
J: Do you follow fashion weeks, latest trends?
CM: I'm still fashion obsessed, but sadly don't have as much time for it to be my focus.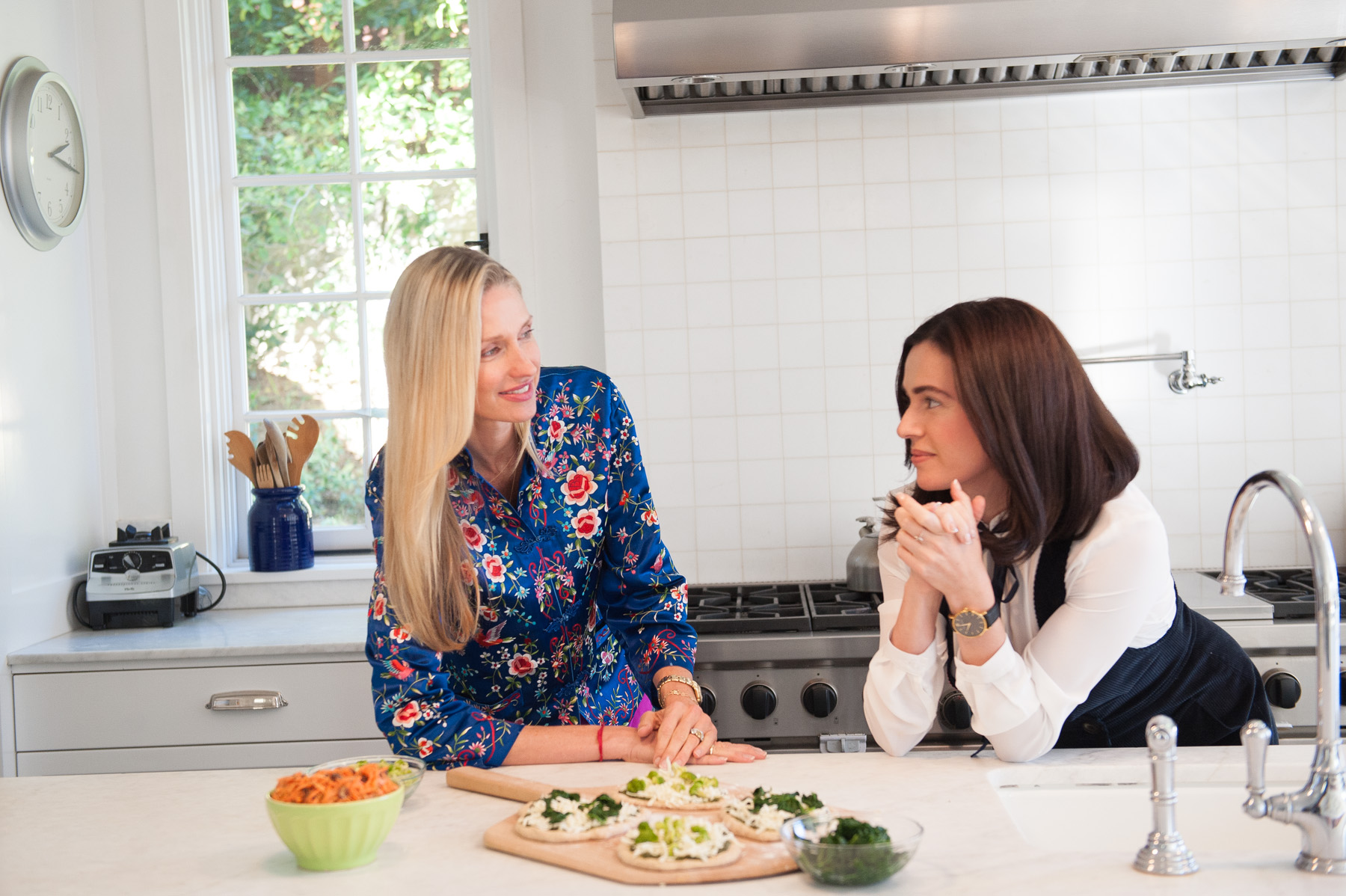 J: What is your personal style like?
CM: When I'm on TV I like to wear bright colors and bold jewelry. When I'm in NY I wear lots of black, high heels, boots, dresses and coats. At home big sweaters and jeans. In LA when we go out I wear leather pants, an array of fun handbags and more upscale casual pieces.
J: Who are your favorite designers to wear on the Red Carpet?
CM: I've worn Marchessa, vintage Halston and Yeo Lee and Naeem Khan.
J: What is Catherine McCord's style advice?
CM: Wear what suits you, but make sure to always have fun with it.
J: What is next for Catherine McCord?
CM: Right now I'm focused on my food delivery company, One Potato. It offers 3 organic family friendly meals a week that take less than 30 minutes to prepare. It's been such a life saver for me and hopefully will be for other families!
J: Brilliant idea for busy moms. I can not wait to sign up for mine!
To learn more about behind the scenes story of Catherine McCord and find out how to win a signed copy of Catherine's latest Weelicious cookbook, One Family. One Meal. visit The Project for Women.
Photography by Lauri Levenfeld