by Karina Kurani
Everyone always talks about the fashion for the ladies, but what about the gents?
Here are three basic looks for the guys that never go out of style. The model for this demonstration is a charming and talented young singer from Germany - Christoph Watrin.

Simple is beautiful. Don't overthink it or over do it. Keeping it simple is never a wrong way to go. A casual and simple look that's easy on the eyes is pleasing to everyone. Choose neutral or cold colors for your shirts. Make sure the shirt is a good fit and that it is not oversized,too loose, otherwise it will look baggy and wrinkly.

In terms of the pants, it's a piece of cake : jeans, sweatpants, shorts, - anything goes. Try to combine opposite colors: light top/dark button or vise-versa. A small accessory a is a nice touch that completes the look.
 
For when it's cold outside: Scarfs are the perfect accessory for guys not only to keep warm but also look stylish. Earth tone sweaters are back in fashion this season and we are loving this trend!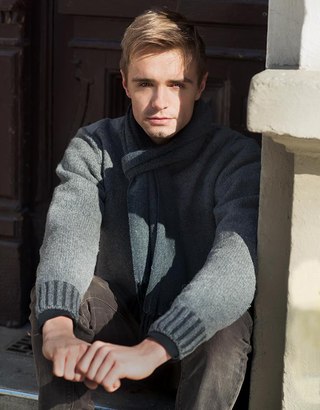 Photo Credit : Martina Thalhofer
And last but not least : a classic formal black suit. Who doesn't love a man wearing a perfectly tailored suit? It instantly gives the vibe of someone walking out right out of the " GQ magazine" This look has probably been around for about a century and it's not about to go out. Dress sharp and you will always make a lasting impression.