On October 1957 Christian Dior invited Yves Saint Laurent and his mother for dinner and declared, "Yves will take my place after I die ."
In the three years working for Christian Dior, Saint Laurent managed to grow and become couture and accessories designer. In 1957 Laurent presented autumn- winter collection consisting of 35 designs. Christian Dior died of cardiac arrest few days after the dinner with Saint Laurent and 21 -year-old Yves Saint Laurent took over the house of Dior.
Yves St. Laurent's first collection for Dior was called the "Trapeze" line and it was a great success. The newspaper headlines read:
"St. LAURENT HAS SAVED FRANCE, THE GREAT DIOR TRADITION WILL CONTINUE"
The young designer appeared on the balcony to greet the crowd The Trapeze Line. This design was a triangular shape, it flared gently from narrow shoulders to a shorter, wider hemline just covering the knees. By autumn all of Paris was wearing this shape dress.
In 1960, Yves St. Laurent was called for military service, and on his return he found that Marc Bohan had been given charge of the House of Dior. St. Laurent was very angry about this, and sued legally against Dior since he had a contract for the position with Dior. He was granted compensation of 48,000 pounds and used this to set up his own salon.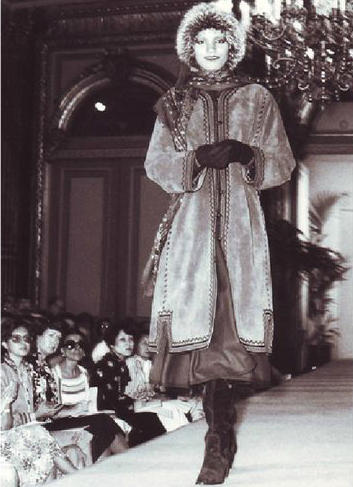 1960 The Spring/Summer collection was also very shocking, it was Beatnik, motor-cycle jackets made of alligator skin, mink coats with ribbed sweater sleeves and turtlenecks under finely cut suits. The staff at Dior felt YSL had misjudged the Dior clientele. Yves St. Laurent presented 6 collections for Dior. His 1959 collection was not very well received because he raised the hemline to the knees, belted every waist tightly and pulled the skirt into a tight kneeband. YSL was not very concerned about the criticism as he said "indignation is a good sign, it means fashion is alive and well."
text by Lauren Cohan