With the encouragement of local partners Levi's and Google, DVF have brought new brand experience, DVF Studio, to California this October with an experiential event and retail pop-up space in San Francisco for four days only. Understanding that this is a challenging time for many in the Bay Area, DVF will make a donation in support of the devastation caused by the forest fires in California. The pop up opened up with a privateDVF x Levi's Party in celebration of the DVF Studio x San Francisco Pop-up and our insider Stylist and Influencer Olya Dzilikhova reported:
"It was not just a collaboration. It was a true experience to see all- American brands merge into something this grand! All time favorite of many celebrities and women around the world is the infamous "DVF Wrap dress". It flatters every age and every body type and Diane is a true proof to this statement. The all time favorite of every generation for the past century is Levi's jeans. Initially being built for the miners, they quickly became a staple in many women's closets. To see this collaboration take place is another proof that WE Ladies can be both strong and feminine at the same time! My favorite part about that evening was that Diane Von Furstenberg herself was running around in the most amazing customized 'leopard- print' jeans and doing fittings on the guests. She would give her imput, take a picture with her infamous peace-sign and run off like a true social butterfly she is known to be."
The Pop-Up – An innovative experience open to all.
DVF transformed a 3500 sq ft industrial space in the Marina district into a multidisciplinary pop-up that melds creativity, innovation, technology, and fashion. Showcasing a modern, diverse and inviting vision of luxury and design, DVF Studio x San Francisco welcoming the public on Tuesday, October 17th through Friday, October 20th.

The Product – Print and color expertise, luxurious fashion with an edge.
In addition to exclusively designed items, the pop-up showcases a special edit of the Fall 17 and Winter 17 fashion collections, the first time for San Francisco customers to shop and experience both collections together.
The Purpose – Bringing fashion and experience to where the audience wants it. Supporting enterprise through philanthropy.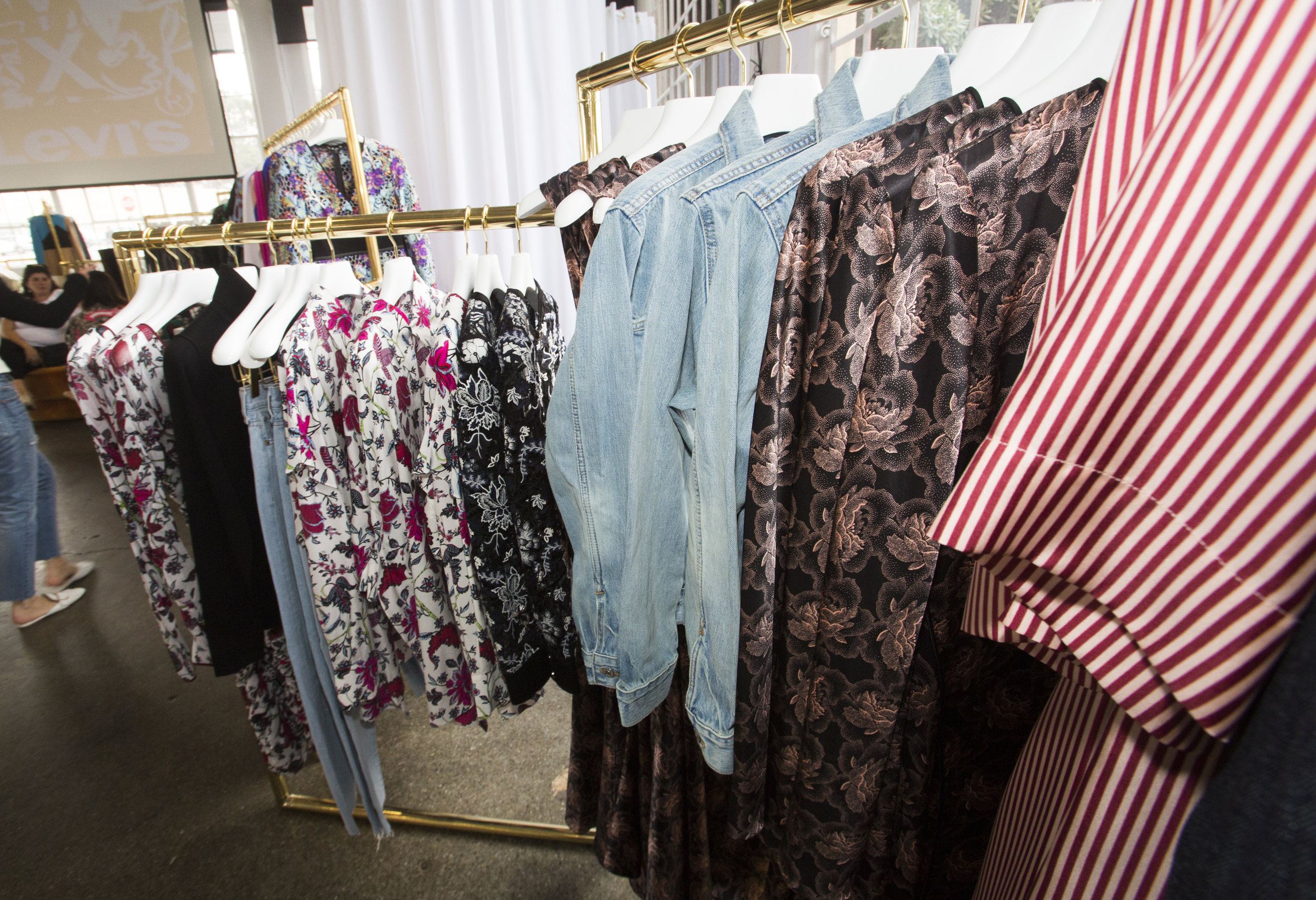 Levi's®
Inspired by the free-spirited Seventies vibe of the DVF Spring 18 collection, a partnership between DVF and world-renowned denim expert Levi's® is celebrated with an opening night party involving screen-printing on Levi's® vintage-inspired Premium denim, large scale mural art, and live music by sister duo Say Lou Lou. The brands have shared a legacy of freedom and craftsmanship since founder Diane von Furstenberg wore Levi's® on nights out to Warhol's Factory in the 1970's.
Google
Leaders from across Google and the Bay Area will gather to celebrate the community of women in Silicon Valley, as well as the role of technology and philanthropy as agents for change in society. Google and DVF have a shared history of investing in the success of women, and will come together to support organizations championing women business leaders of today and tomorrow through education, leadership development, and programs of artisanal expertise, which Saunders integrates into his craft at DVF. Guest speakers include Lorraine Twohill – Google, CMO; Jonathan Saunders – DVF, Creative Director; Tara Chklovski – Iridescent, Founder/CEO; Alyse Nelson – Vital Voices, Co-Founder/CEO; Ariela Suster –Sequence, Founder.
An installation of Levi's® customized by Saunders will be on display throughout the four-day pop-up as part of a site-specific exhibition of archival photographs from the Levi's® archive and of Diane von Furstenberg from the era in which she founded the brand. This month, Levi's® 501 jeans and the first DVF wrap dress from 1974 feature alongside each other in the Museum of Modern Art's new show focusing on iconic fashion items from the 20th and 21st century, titled, "Items: Is Fashion Modern?"
Location:
DVF Studio x San Francisco
Fort Mason Center
Gallery 308
2 Marina Blvd, Building A
San Francisco, CA 94123
Public opening hours:
Tuesday, October 17th – Friday, October 20th
10am - 4pm