One of the largest distributors in cosmetics and owners of their own line, Alcone, threw an over the top party this year celebrating 65th Anniversary at Capitale. The company is a family business and goes way back. Its history is quiet adventurous. Alcone was founded in 1950's as a pharmacy which sold cosmetics to Broadway showgirls and starlets.
In 1970s the brand entered Hollywood zone by selling cosmetics and paint for the horror movies. Presidents of the company, Mary and Vincent were soon approached by three men, seeking supplies for their new show. Today you recognize these men as The Blue Man Group.
The glamorous party at Capitale transformed the entire place into New York City in the 1950s. Surprises included performance by music icon Ronnie Spector, a musical tribute to Alcone by Kembra Phaler and her cult band The Voluptuous Horror of Karen Black, a rare throwback set by 80s drag legend Lypsinka and a fan dance by Los Angeles based burlesque queen Miss Mosh. Along with a cast of over 30 new york nightlife perfermers who posed and preened in Area-nightclub style vignette windows that dipicted different scenes in which the cosmetics company has been instrumental in supplying and developing specialty products, the entertainment kept coming fast and furious.
Among guests were cosmetic industry bigwigs, models, fashion stylists a& editors and New York Nightlife personalities who enjoyed hors de aves and cocktails. We caught up with the new CEO of Alcone, Maria Stewart who will run company's principles and chatted about company's achievements and more.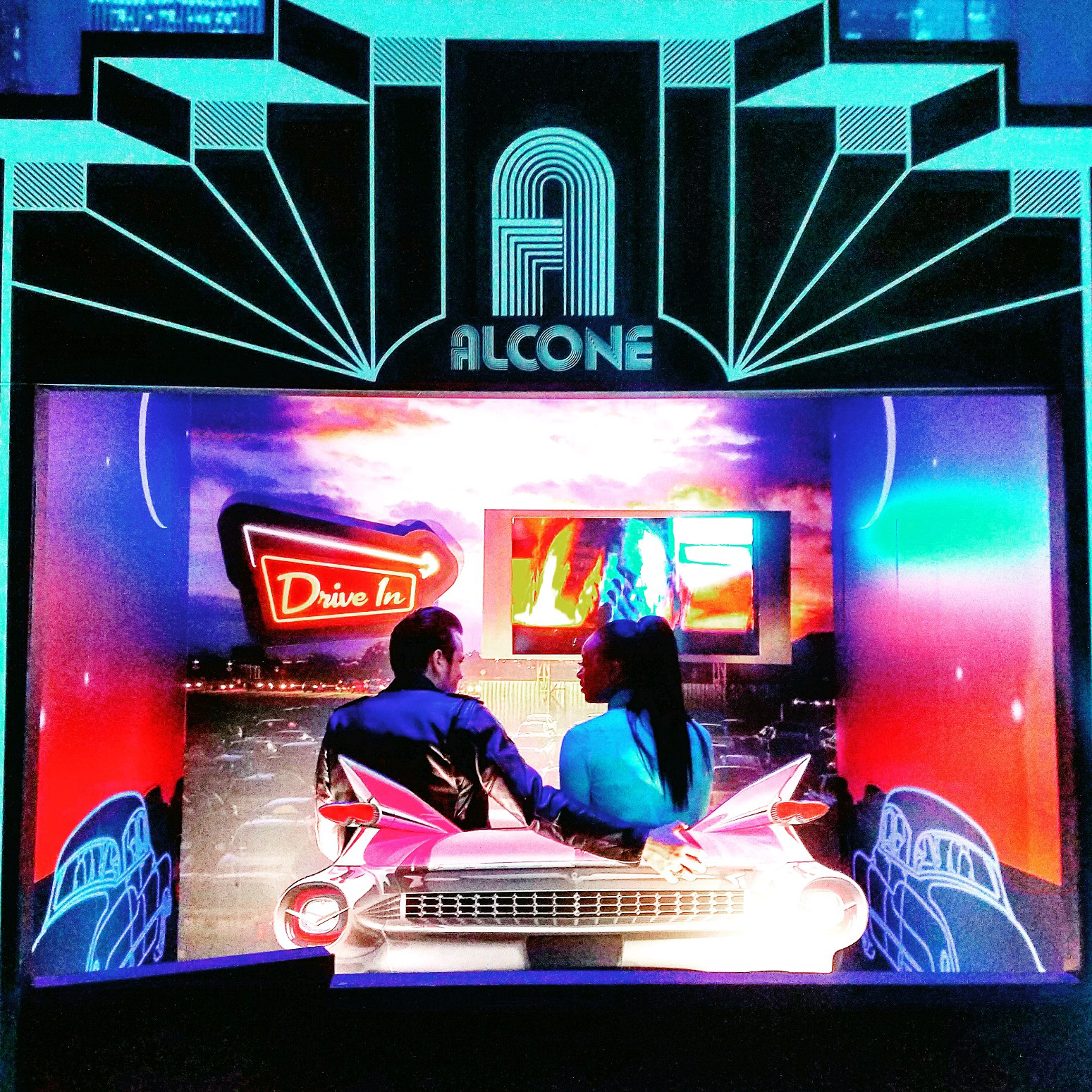 The company goes way back to 1952, how did it start?
The founders, Alvin and Harriet Cohen decided to open up a space in the back of his parents Pharmacy in New York City because he saw a need for theatrical and professional makeup for the show girls and local performers.
You began by selling cosmetics and false eyelashes to Broadway showgirls and starlettes. Tell us more? Why showgirls?
Alvin was a huge fan of theater and the arts. Opening up Alcone was a way for him to be part of that community and cater to a specialized market, providing the makeup products and tools that they needed but weren't readily available to them. It's hard to imagine today, because you can find eyelashes and eyelash glue in stores everywhere now, but back then, these and most other theatrical makeup products had to be mail ordered- and this was before express shipping!
You just celebrated 65th anniversary, people love your product. What's your secret? How are you different from other brands?
Our secret was, and still is, to introduce the best makeup lines and products out there at affordable pricing. These were products that we discovered through professional artist recommendations or products that we knew would become staples in the industry. To elaborate further, we are distributor for top professional brands and makeup manufacturers.
When you hear the word 'top' in reference to makeup, you may think of the known brands found in department stores, but many of the ones we sell are legacy brands that were developed by the "top" makeup artists in film and television going back to the 60's. We also carry newer brands created by today's "top" professional artists who are on the cutting edge of innovation when it comes to recognizing the need for new products. We strongly believe in supporting artists brands, not just as part of our community, but because we know their products are the best in the industry. In addition to these makeup lines, Alcone continues to seek out exceptional new and hard-to-find products from around the globe, which is another reason our "non-pro" customer base continues to grow. They are die-hard beauty enthusiasts who want the same products the pros use, and then some!
What traits do you need to be able to embrace instant success?
Success comes from a lot of hard work and dedication. I don't know if there really is "instant success," but I have seen people with great attitudes and the drive to learn more get very far with their careers. I would also say that in a world where kindness and caring is not a priority, those that embrace those traits can stand out and make a big impression in the industry.
Natural look and neutral colors are in today, how do you stay current with all the changes in the beauty and fashion world?
One of the ways we stay current is by having a great team on staff who are highly involved in the industry's happenings- what's new, what's happening now and what's going to happen when it comes to makeup. And because we specialize in brands created by professional artist who are actively working the the field, they're ahead of trends and creating them because they are living in this highly creative industry, experiencing it firsthand. That allows us to continually offer a vast array of products that allows anyone to create the look they desire, from the most natural to the extremely avant-garde.
What celebrity would you say represent Alcone?
This is a difficult question to answer. We have never paid for a celebrity endorsement but we have had many mentions in magazines because a makeup artist will talk about a product they purchase from us and used on their "celebrity" client. We also are excited when a known professional performer or actor visits us at our store. We pride ourselves in offering a safe space for them to get out and shop and blend in with everyone else. Maybe a question I feel would be more fitting is "what kind of artist would you say represents Alcone?" That answer is any artist that has a vision they want to make a reality and if it involves makeup, we have your back. #AlconeLovesArtist
What challenges have you faced that you didn't expect?
The advancement of technology has both helped and hindered us. When Alcone first started, we catered to walk in's and mail-orders- literally waiting for the orders to come in through the mail. It took longer to process the orders, but at least we had more control. Now if our site goes down, we are at the mercy of the internet and its connections. This has also been a huge learning curve and undertaking for us but we have managed to evolve with the advancements of technology and are excited to keep Alcone current with the times. On that note, we celebrate that the world today allows for us to get our products into the hands of more people, faster and easier, but it does have its challenges for sure.
Why should we buy Alcone cosmetics?
We know makeup and we understand the importance of our products. Not just for the professional artists that make a living using them, but also for the "everyday" person that needs real solutions. It could be anything from recreating a beauty look they saw online or something more serious like covering a scar or birthmark. Along with our products, we offer personalized assistance. You call and we answer. Makeup artists don't have time for to press buttons for options when they're trying to contact customer service to place an order. On a separate note, when you support Alcone Company, you are supporting a small family run business that has been able to hire and support many locals members of our community and their families. Something we are very proud of.
What stores can we find Alcone cosmetics today?
We have our retail store in NYC at 322 West 49th Street, which has now become a destination for visitors from around the world, and of course online at alconemakeup.com. There are other suppliers that carry some of our most popular branded products like our Alcone Make-Off Makeup Remover Cloths and Professional Makeup Sponges as well as Third Degree (a special effects material) which have all proven to be staples in the industry.
What advice do you give to those who work with their families?
Family run businesses can be a bit tricky especially when you work so closely with each other (as with ours). I think the most important lesson that my family has learned throughout time and experience is to just to have respect for the people you are working with and are surrounded by, whether in business or in life. Everyone should feel they have a voice and should be able to have mature conversations without ego or sensitivity getting in the way. Our mother and father taught us that through example and we are proud that we are merging into our 3rd generation and going strong.
What's next for the company?
We are in the middle of developing our Alcone Studio line that will consist of eco-friendly and sustainable products. We are also applauding our offspring company, Limelight by Alcone, that will be going international soon. But in the most simple terms, we mostly look forward to keeping up with the times and the trends while holding onto the same values that Alvin Cohen instilled in this company back in the 50's- finding the best products at an affordable price and continue to offer our customers anything and everything they would need to bring their art to life.